We

Welcome You to Our New Website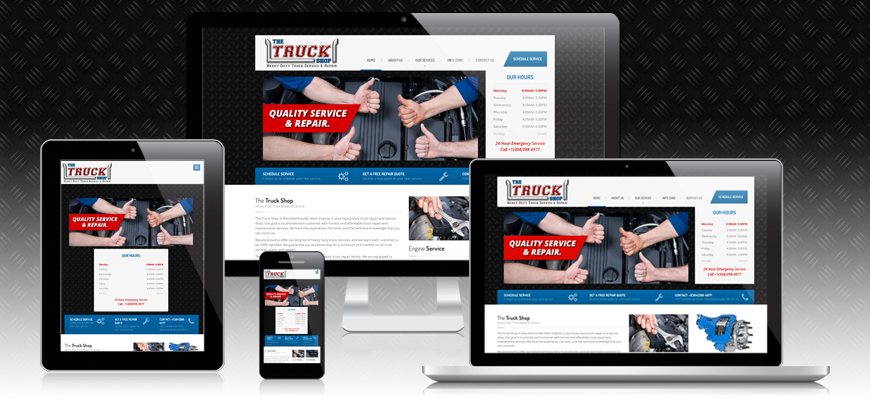 Thank you for visiting our brand new website! Whether you are on your home computer, a tablet device, or away from your desk using a smart phone — The Truck Shop website enables our visitors to contact us easily. To learn more about us, feel free to browse through our extensive heavy duty truck repair services and articles.
Our new website allows customers to use our contact form to send inquiries in order to schedule a service appointment, discuss a problem with their truck, or Get a FREE Repair Quote. While we are a 24-hour full service heavy duty truck repair facility, it is important that our customers are able to quickly inquire about scheduling truck maintenance or an emergency truck repair.
We needed to have an online presence to announce our business and to help customers find us, and we could not have done it alone. In March of 2014, we began working with Chris and Jerri of GINGALLEY Web Design & Promotions. They created our logo, letterhead, our business cards, and then prepared what we needed to be found on the web. While we were so busy working on the development of our business, setting up the garage, and working on opening our shop, the teamwork was wonderful and they have helped explain what we offer in words, pictures, and graphics.
We Stand By Our Work
The goal of The Truck Shop is to help truck owners and truck drivers prevent costly repairs out on the road. The knowledge of having a smooth-running and well-maintained truck provides security and confidence to the hard working truck driver. It also is a big stress relief to business owners in knowing that they won't be surprised by more expensive repair costs down the road.
We offer professional service for original equipment manufacturer (OEM) parts, seals, adjustments, o-rings, gaskets, fasteners, fittings, hose clamps, electrical connectors, and more. We fix and work to prevent future failures that can occur due to abused or worn components with normal maintenance recommendations.
Located in scenic New Martinsville, West Virginia, The Truck Shop is here to serve you. Stop on in and say "Hello". We look forward to meeting you!