Repairs, Service, and Sales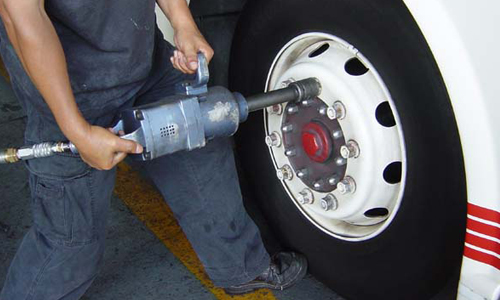 The Truck Shop sells, repairs, and services heavy duty truck wheels and tires. Having properly maintained tire pressure, aligned wheels, regularly rotated tires, balanced tires, and renewed tire tread can make all the difference in the performance of your truck on the road and at the work site.
Truck fuel cost-per-mile can become lower with our recaps that perform like new tires at a fraction of the cost. The retreads are produced under strict quality control standards and go through rigorous inspection.
We sell and service new or used tires, recaps, and wheels that are designed for axles carrying very heavy loads. We offer tires for dump trucks, on or off highway construction vehicles, specialty oil field equipment, and front-discharge cement mixers with front-wheel or all-wheel drive. We can supply wide base tires for industrial job situations in which superior traction is required.
Whether heavy duty truck tires for original equipment use or for replacements, we use brands that are known for their long tread life such as Goodyear, Bridgestone, Firestone, Yokohama, and Michelin.
Our Tires & Wheels Services Include:
Tire Repairs and Patching
Tire Replacement
Tire Rotation
Tire Balancing