Air Conditioning, Heating, and Ventilating systems for heavy duty work trucks, mobile equipment, highway trucks, off highway earth movers, boom trucks, logging trucks, and mining equipment are important. Keeping the truck driver and equipment operator comfortable is of great importance to us.
The Truck Shop understands that there are new regulations and laws effecting the allowable idle time for big trucks, and to keep the truck cab climate-controlled has become more difficult. By not allowing truck drivers to idle truck engines, drivers are likely to perspire heavily in the summer heat or become frigidly cold during the winter months.
The wheels of the industry have to keep moving in all kinds of weather conditions. We work to help reduce costly down-time and operating costs for the hard working truck driver.
Whether mining, shipping, or construction equipment, operator comfort and equipment functionality is a priority. We service and maintain truck HVAC systems to comply with the no idle rules and to help offset the rising cost of diesel fuel.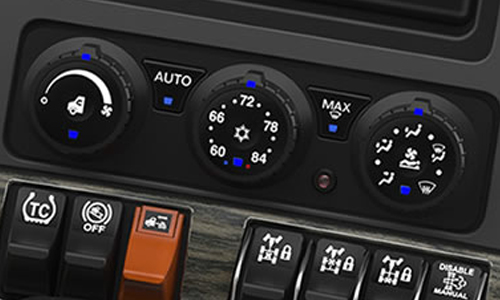 Our Heating & Air Conditioning Services Include:
Air Conditioning Service and Repair
Belts and Hoses Replacement
Diagnosis and Troubleshooting
Flush and Fill Fluids and Radiators
Head Gaskets
R134A Conversions
Radiators Maintenance
Thermostats
Water Pumps and Service